Introducing WPCampus Speaker: John Rhea
John Rhea will be joining us at WPCampus 2017 to lead a workshop on Finding eternal REST: An undead guide to building JavaScript front ends for WordPress. You can see him in action on Friday, July 14 at 2 p.m.
---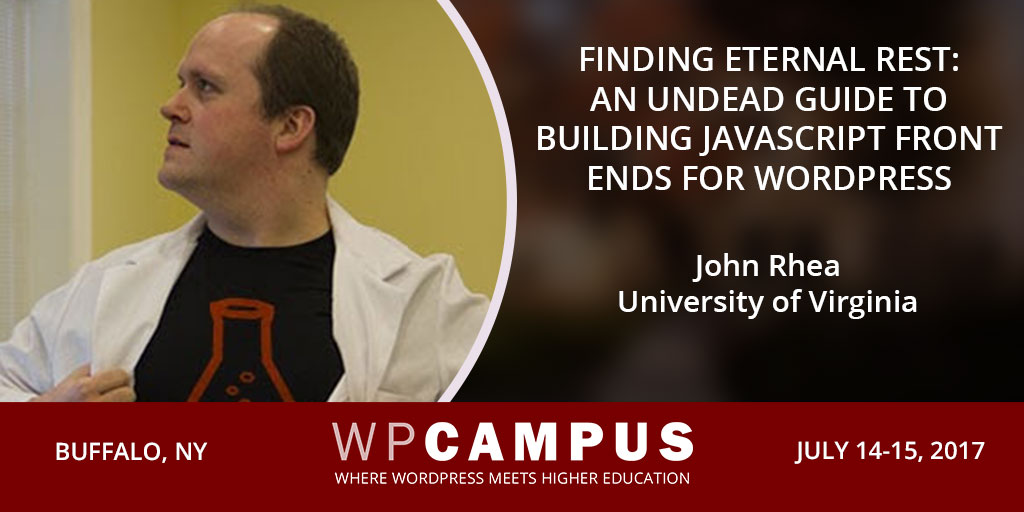 Tell us about your first website or digital project. What was the spark for you?
I took a class in high school on HTML. I loved how you could code something that you could see and interact with even if that largely consisted of blink tags and geocities-esque color schemes.
Why higher education?
On the the one hand corporations can feel like soulless scavengers waiting to pounce on people and take their money and on the other hand I needed a job when the late aughts recession ate my previous job. All-in-all it was a win-win.
Tell us about the topic of your session. Why is it important to you?
The WordPress REST API can open up a whole new can of whoop on the Internet and allow you to do so much more with WordPress than you could have before. Plus Zombies are fun.
Who do you follow on Twitter and why? 
@MrT because A-team
@buttersafe because their comic makes me laugh
@MarsCuriosity because Mars + Robot = Awesome
Why do you ♥️ WPCampus?
I'm not sure I'm ready to throw around the heart emoji, but my limited experience with WPCampus thus far has been pretty awesome. So after our first date in July, I'm sure my wife will grow concerned about my late nights rewatching talks and whispered nothings near the computer screen.
If someone designed a wapuu for you, what would it look like?
A zombie wapuu, of course.
What WordPress, or other, tool can you not live without?
Gravity Forms and Advanced Custom Fields.
---
View all announcements