Introducing WPCampus Speaker: Charles Fulton
Charles Fulton will be joining us at WPCampus 2017 to share Don't Push Rocks Uphill: Deploying WordPress with Capistrano and Composer. You can see him in action on Friday, July 14 at 9:30 a.m.
---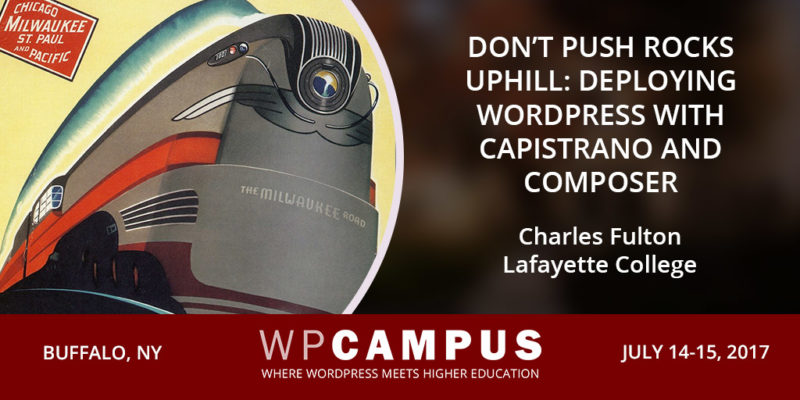 Tell us about your first website or digital project. What was the spark for you?
I suppose the first was a class project in high school, back in the late 1990s. My interdisciplinary science class spent a week on an island in Lake Michigan; we were then supposed to use a page-building program (I forget which) to write about various aspects of the island's history and ecology. I remember the authoring tools being cumbersome and primitive. I don't think the site ever went live. Toward the end of my high school career I was involved in a pre-professional organization and built a "fake"  website for a notional tech company. That was my first experience with PHP (version 3), and I began my long struggle with remembering argument order syntax.
Why higher education? 
I grew up in an academic household; my father was a professor of english literature. I graduated from a liberal arts college with a degree in history. Higher education is a place where I feel comfortable, and I believe in its mission.
Tell us about the topic of your session. Why is it important to you?
Although I wear numerous hats at Lafayette, primarily I work in the operations layer. Our current deployment model represents several years worth of iteration, I'm happy with where we've landed, and I'd like to tell somebody about it.
Who do you follow on Twitter?
It's an eclectic mix: people I know, people who work in web development, reporters, sportswriters, transit agencies. David Bisset (@dimensionmedia) is a great follow just for the random tech projects he tweets out. Jane Coaston (@cjane87) writes for MTV News and brings a deep perspective to current events. Alice Goldfuss (@alicegoldfuss), beyond being smart and funny, constantly takes me outside my comfort zone. Transit Maps (@transitmap) is run by Cameron Booth, a graphical designer with a strong interest in transit.
Why do you ♥️ WPCampus?
It's a mashup of two conferences I already love: HighEdWeb and WordCamps. While I appreciate that both expose me to unfamiliar things, I welcome the opportunity to interact with people who face many of the same problems and challenges.
If someone designed a wapuu for you, what would it look like?
There would be a train involved.
What WordPress, or other, tool can you not live without?
The obvious answer is Git, but let's go with WP-CLI. It simplifies numerous tasks with site administration–upgrades, provisioning, reporting. I'm not sure our current ecosystem at Lafayette would be viable without it.
---
View all announcements